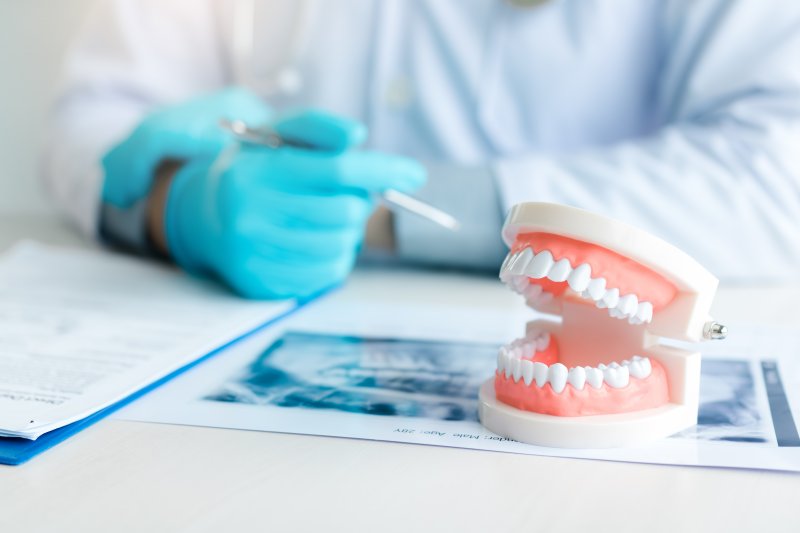 You've probably considered dentures if you're missing some of your teeth. After all, these dental prosthetics can easily restore smiles! Still, perhaps you've lacked pearly whites for a long time. You may fear treatment won't work in that case. However, there's no reason to worry: getting dentures for persistent tooth loss is possible. As for why that's the case, let your local dentist explain. Here's a summary of how you can get dentures when tooth loss erodes your jaw.
Persistent Tooth Loss Erodes Your Jaw
In truth, unaddressed tooth loss affects more than your grin. It actually weakens and erodes your jaw over time.
You see, your jaw relies on a full smile for stimulus. The chewing from your teeth protects and maintains its bone tissue. However, losing your chompers reduces this crucial stimulation. Left unchecked, the lack of stimuli will cause your jawbone to erode and lose density.
If your jaw weakens enough from tooth loss, some tooth replacements won't work. Dental implants, for instance, need a sufficiently strong jawbone for support. Without one, they won't fuse with surrounding bone tissue and stay in place.
Dentures are Still an Option
Fortunately, a weak jaw doesn't have to keep you from dentures. Even if tooth loss has shrunken your jawbone, the treatment is still an option.
For starters, some dentures work despite your jaw's bone loss. Full types – those that replace an entire arch of teeth – are one such example. They adhere to your gums with a strong suction force. That way, they stay relatively secure even if the jaw is weakened.
A dentist can also help you qualify for bone-dependent dentures. Namely, they can perform a bone graft that restores your jawbone. This surgery strengthens your jaw enough to handle implant dentures, which use implants to secure themselves.
The Benefits of Dentures
Getting dentures for long-missing teeth may take effort, but the benefits are worth it. The restorations offer the following perks:
Natural-Looking Results – Today's dentures greatly improve your looks with a full, natural-looking smile. The result is a boost in confidence and self-image.
Improved Speech – Naturally, lacking teeth makes it hard to speak and causes slurring or mumbling. Dentures, though, restore your speech enough to help you talk clearly.
Better Nutrition – Implant-based or not, dentures help you chew and eat food. As such, they expand your dietary choices and improve your nutritional health.
Cost-Effective Care – Compared to implants, dentures are often inexpensive. They're thus ideal for patients who want an affordable way to restore their smiles.
Ultimately, you can get dentures for persistent tooth loss. With that said, talk to your local dentist about a possible treatment.
About the Author
Dr. Joshua Hong is a licensed dentist in Goodyear, AZ, having earned his DDS from the University of the Pacific's School of Dentistry. He completed his post-graduate work through the Foundation of Advanced Continuing Education (FACE). Today, his specialties are preventive, cosmetic, and restorative dentistry, as well as dental sedation services and Invisalign. Dr. Hong currently practices at his self-titled clinic and is reachable on his website and by phone at (623)-925-8822.